Elina Waage Mikalsen
Borealis Artist in Residence
2022–24
Sea Sámi and Norwegian artist and musician Elina Waage Mikalsen is our Artist in Residence between 2022–2024. Supported by the festival, Elina is developing a research, engagement and performance programme that explores the interaction of Sámi history, identity and erasure with experimental sound, music and listening practices. Asking the question "What is Sámi sonic experimentalism?" together we will explore who defines experimentalism, who is listening and how, and what frames define how we take part in listening? Far from building a definitive answer to these research questions, as a young Sámi woman with roots in Norway too, Elina will lead the discussion from her viewpoint and work collaboratively to invite different voices into our discussions, curation and audience engagement. Inspired by the legacy of the seminal Sámi artist, poet and musician Nils-Aslak Valkeapää / Áillohaš, Elina has begun mapping the different possibilities of sonic experimentation across Sápmi and will draw inspiration from global indigenous performance, listening and organising traditions.
If this is your first encounter with Sámi culture, we've made a list to familiarise you with some basics.
Šuvva – workshopping Sámi Experimental Music, Sonic Practices, and Listening in Tromsø 19 & 20 October 2023
Šuvva is a gathering that aims to bring together the Sámi community of performing artists with an interest in sound and music from the in-between spaces.
What: Two days of workshopping Sámi experimental music, sound art, and listening
When: Thursday 19 & Friday 20 October, daytime (Time TBA)
Where: Small Projects, Tromsø (Grønnegata 23)
Who: Sámi artists and musicians working with and interested in Sámi experimental music and sound art Languages: Norwegian, English, and Sámi
Price: Free of charge
On October 19 and 20, we will come together to get to know each other, present our practices, listen to music, and discuss how we relate to sound in different ways. What is a Sámi way of listening? How can we work experimentally in a Sámi context? Are there similarities between how Sámi culture engages with sound and how other indigenous cultures do it? We have a rich history of sound to look back on, from Aillohaš' field recordings and music to Bongo-laika, Mari Boine's vocal techniques, and Jon Persen's compositions. By creating a platform where we can meet, we aim to empower Sámi artists who continue this work in various ways. The programme will consist of presentations where all participants can introduce themselves and their work, listening sessions, discussions, and shared lunch.
Šuvva in Tromsø is part of Elina Waage Mikalsen's guest artist project with Borealis.
Questions about this gathering? Get in touch with: miajulie@borealisfestival.no
Elina at Borealis 2023
For Borealis 2023, Elina presented a day of live performances, food and discussions exploring Sámi experimental music, sound, culture and listening practice in Østre in Bergen. She also presented the sound piece Rođu Govkkit/Glenner i Vier in the very special listening goáhti on top of Mount Fløyen. Read on for more…
The sounds from in between – a talkshow collage
Saturday 18 March 2023, 11.00–14.00, Østre
The sounds from in between – a talkshow collage took place Saturday of the festival in Østre in Bergen and reflected around what Sámi and indigenous experimental music, sonic practices and listening is, and how to approach it. In a relaxed atmosphere Elina acted as the talkshow host and led the audience through musical archive material from Sápmi, a conversation via Zoom with Oglala Lakota performance artist, visual artist, composer and researcher Susanne Kite and groundbreaking live sets and conversations with Sámi artists Viktor Bomstad and Katarina Barruk. A delicious stew was provided by local foodies Hallaisen , and the Sámi bread gáhkku was made by Britt Waag from the Bergen Sámi Association.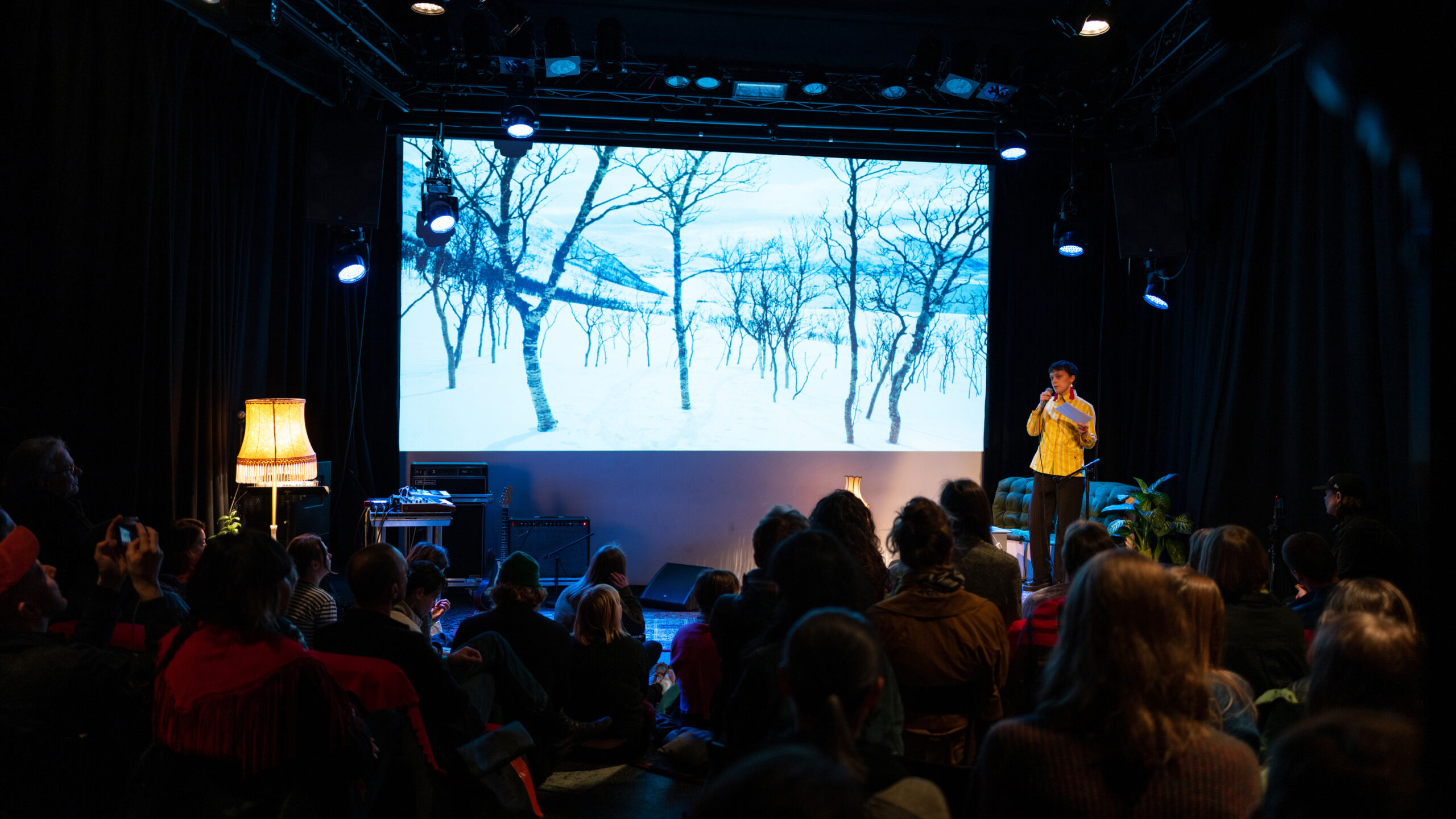 Rođu Govkkit/Glenner i Vier in Jiennagoahti
Wed 15–Sun 19 March 2023, Mount Fløyen
Built from wood, and covered in turf, a goáhti is a traditional Sámi home construction. The Jiennagoahti (Listening goáhti) was the 2023 festival's most unique listening space. High up on Mount Fløyen surrounding the city of Bergen Jiennagoahti is an artwork dedicated to listening – an outdoor and indoor space for the dissemination and learning of indigenous Sámi culture, architecture and language as well as ecology for residents of all ages. The project was initiated by artist Elin Már Øyen Vister in dialogue with Sámi architect and artist Joar Nango. For the festival Jiennagoahti hosted a sound work by Elina. Rođu Govkkit/Glenner i Vier, is a work built on field recordings and voice, exploring our relations with the world we see, and the world we don't – exploring how nature opens her secrets and forgotten places, if we just listen.
Radio programmes with Elina
Press on the project and Elina
Plans ahead for the project
MAY 2023
Conversation with indigenous artists and organisers
Working session with the Borealis administration, site visits in Bergen
JUNE 2023
Field trip to Tromsø
Conversations with indigenous artists and organisers
SEPTEMBER 2023
Travel with Katarina Barruk to Ume Sámi area in Sápmi/Sweden
OCTOBER 2023
Sámi Experimental symposium hosted by Elina in Romsa/Tromsø
MARCH 2024
Elina presents her new commissioned work at Borealis 2024
Extensive experimental Sámi programme co-curated by Borealis and Elina for Borealis 2024
Follow the project on Instagram