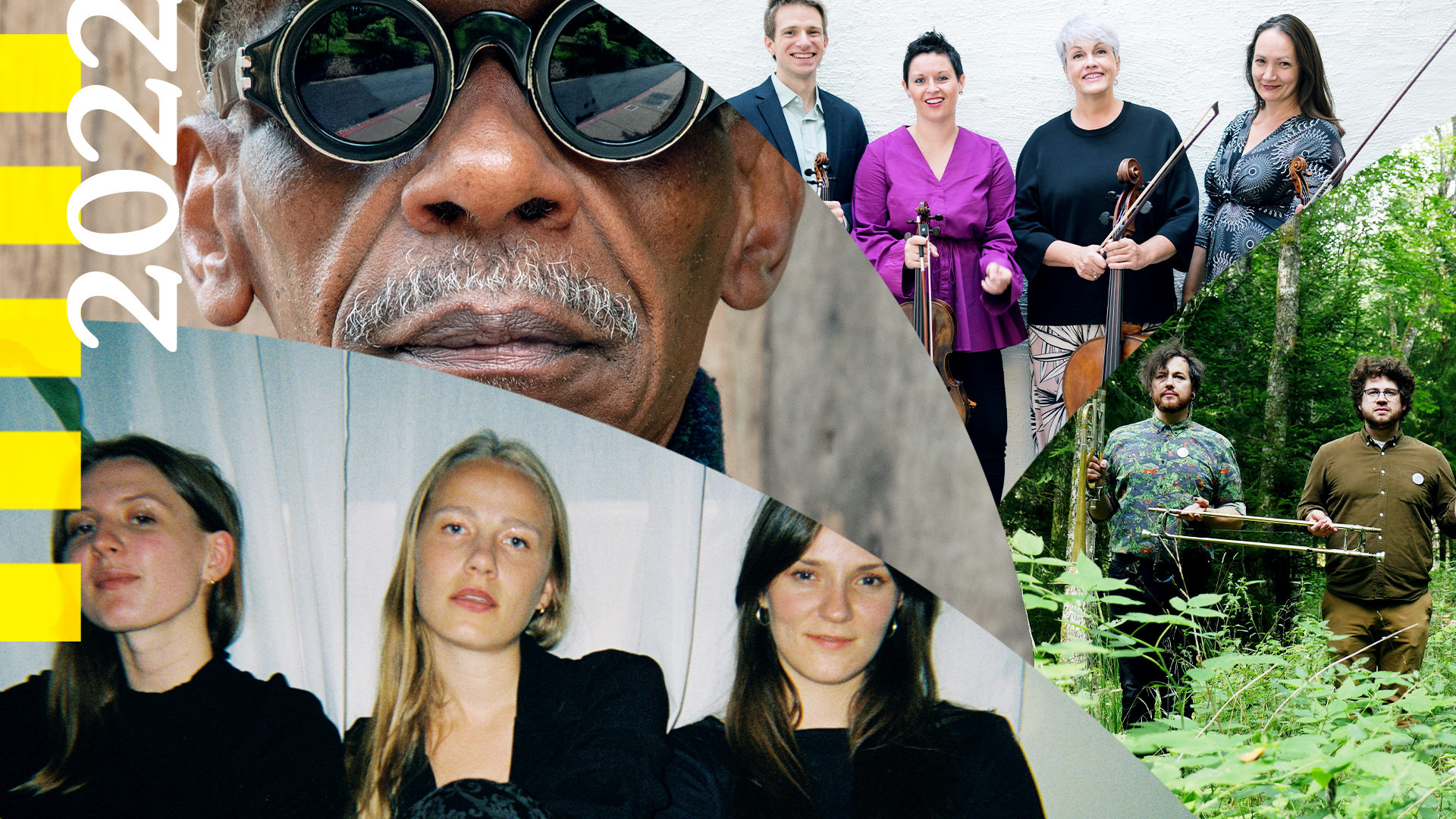 *Norwegian Premiers*
The Opening Night takes place on all three floors of Kulturhuset i Bergen.
The ticket gives you access to the whole evening.
There's also separate tickets sold to the last part of the night with Nothing Personal.
The bar on the 1st floor is open.
19.00–22.00
3rd floor: BIT20 Ensemble String Quartet
2nd floor: RAGE Thormbones
1st floor: Nothing Personal
Tobias Gulbrandsen – visuals
BIT20 Ensemble String Quartet
Alexander Kagan – violin 1
Jutta Morgenstern – violin 2
Liene Klava – viola
Agnese Rugevica – cello
Manuel Hofstätter – percussion
Catherine Lamb – divisio spiralis XII 3'45
Roscoe Mitchell – 9/9/99 with CARDS 12'
Susie Ibarra – Pulsation 7'30
Also catch:
File Under Freedom – an extensive group show in Bergen Kunsthall revolving around themes of improvisation in art with works by Roscoe Mitchell and Marshall Trammell amongst others.
Photo: Thor Brødreskift, Maria Saxegaard, Joseph Blough, Mats O Hansson
Starting at the very top of the building a trio of contrasting American works for String Quartet, are having their Norwegian premieres. From the renowned musician and composer Roscoe Mitchell, a new version of his 9/9/99 with CARDS exploring scored music and improvisation. Another taste of a featured festival composer comes in the shape of Catherine Lamb's divisio spiralis, with a glimpse in to her Rational Intonation sound worlds. And from Filipino American percussionist Susie Ibarra, Pulsation, where the BIT20 Ensemble String Quartet are joined by percussion to explore the pulsating signalling language from Philippine kulintang gong rhythmic modes.
Filling the middle floor with sound are two human beings, Mattie and Weston, with a thing for trombones. With modified instruments that make them look like low-budget Ghostbusters exploring the low-end world of blown tubes, this often raucous duo investigate the sonic possibilities of compressed air, drawing on new composed music, drone and noise, as well as the myriad traditions of people around the world who blow things.
Closing out the evening on the ground floor, Oslo's latest experimental pop three piece Nothing Personal bring their own blend of synth noise, tight harmony and skittering beats. Exploring blurry spaces of analogue and digital, Solveig Wang, Dorothea Økland and Thea Emilie Wang formed the band to explore collage and deconstruct song making. Expect bubbling synths competing with breathy clarinets, clattering percussion punctuated by fleeting catchy melodies, in an uplifting experimental end to our Opening Night!
Presented in collaboration with Bergen Kunsthall and BIT20 Ensemble