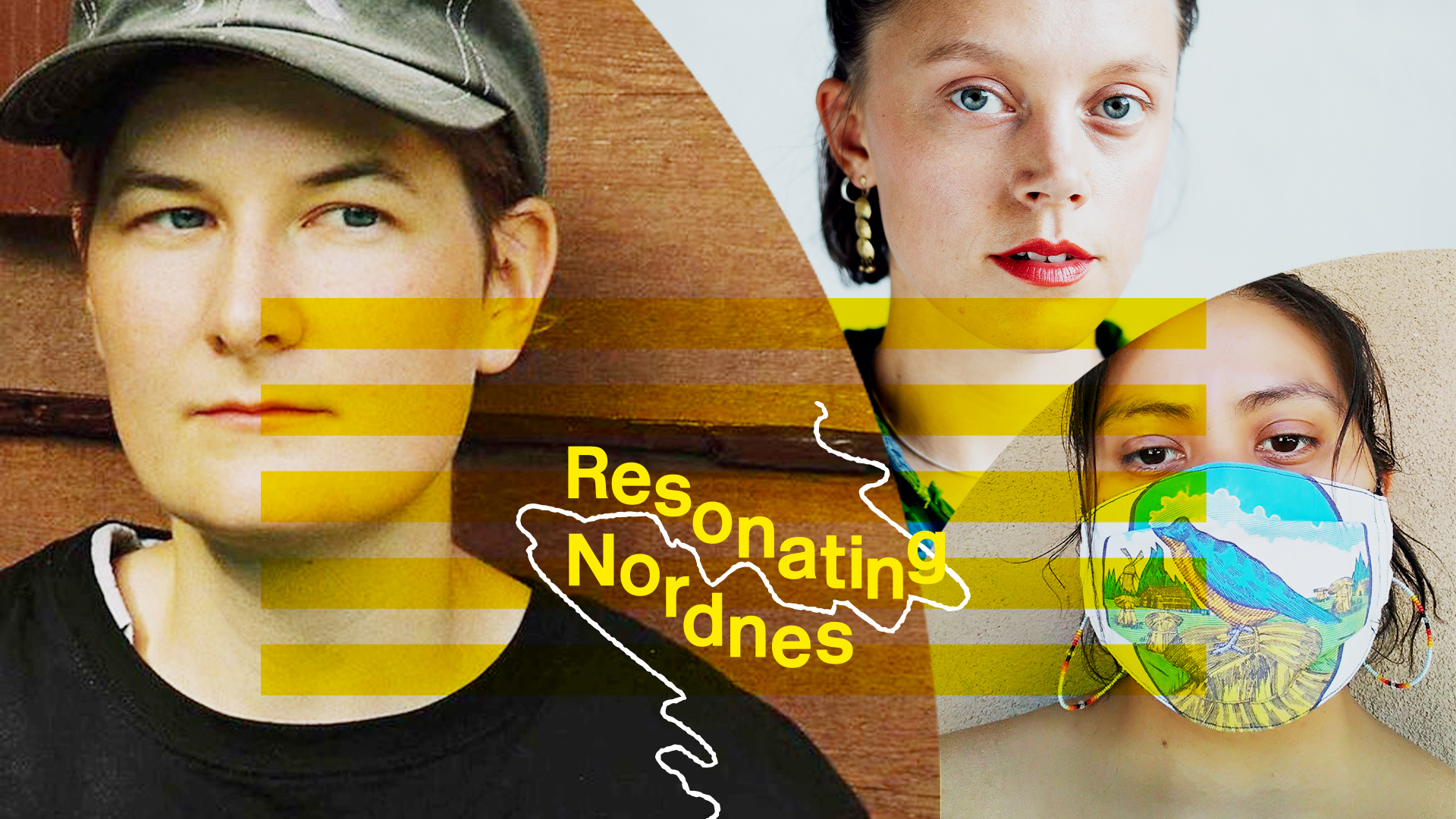 20.03. 10:00–16:00
Studio 207
Come and shelter in the cosy environment of Studio 207, Borealis' very own project space, and listen to our festival Radio commissions in hi-fidelity! Drop in any time for a rolling programme of works from Jenny Berger Myhre, Elina Waage Mikalsen and Autumn Chacon.
Waking states, underworld voices and extraction interference make up this trio of new Borealis commissions for FM and online broadcast from artists in Norway, Sápmi and the Navajo Nation. Continuing the festival's commitment to radio broadcast as a space for creating new sound work, Borealis has invited Jenny Berger Myhre, Elina Waage Mikalsen and Autumn Chacon to draw on their mixed musical and artistic practices to reflect on the complexity and power of voices. Broadcast across the Nordnes peninsula on FM as part of our Resonating Nordnes day, as well as online transmission as part of our Radio Space programme, the works will be free to engage with whether you are sitting at home in Bergen, wandering the streets with your portable radio, or around the world via the internet.
Jenny Berger Myhre's Slowly I wake up to my other life is an intimate story about listening to the soft voice — the one we hear in our dreams, and in our thoughts — and the one we keep for our loved ones. It pays tribute to the intimacy of voice messages, specifically those that are recorded early in the morning, or just after sleep. A poetic radio composition about not knowing what to choose, where to live, or how to spend the days that come and go, and about coming to terms with the uncertainty of life and attempting to stay curious.
Elina Waage Mikalsen's Juolggit julggiid vuostá – the line has two sides combines her voice raw, as instrument, and with words with electronics, her self-built instruments and field recordings to bring to life ghosts, or in the sámi context \"underworld people\". Exploring the long history of erasure of sámi voices and stories in Norway, this new work brings a conversation with the dead to reveal the intentional gaps in historical narratives and restores connections to the past, whilst creating opportunities for the future.
Autumn Chacon's What Will Be Lost is a new collaborative work between the Indigenous US based artist and Sandra Marja West, sámi activist, artist, and member of the sámi Parliament. Drawing on her own history of vocal activism, Autumn's work stands in solidarity with the current dispute the sámi face against big copper mining in sápmi. What Will Be Lost, is 2 simultaneous broadcasts in which words directed at the German Copper Buying Industry is interrupted by a second broadcast of the land, water, animals, and peoples who will be negatively affected by copper extraction in sápmi.*
* Chacon and West first became friends when Sandra's family spent the winter of 2016/2017 at the Standing Rock occupation in North Dakota, United States where a proposed oil pipeline threatened the livelihood of the Lakota Nations. They were reunited in spring 2017 when Autumn and a delegation of North American Indigenous women travelled to Norway to plead with its banks and parliament to divest from the North American pipeline and were successful in a 3.5 Billion dollar withdrawal.
Commissioned in collaboration with Radiophrenia.
Commissions supported by Arts Council Norway. Supported by Creative Scotland's Open Fund: Sustaining Creative Development Programme.