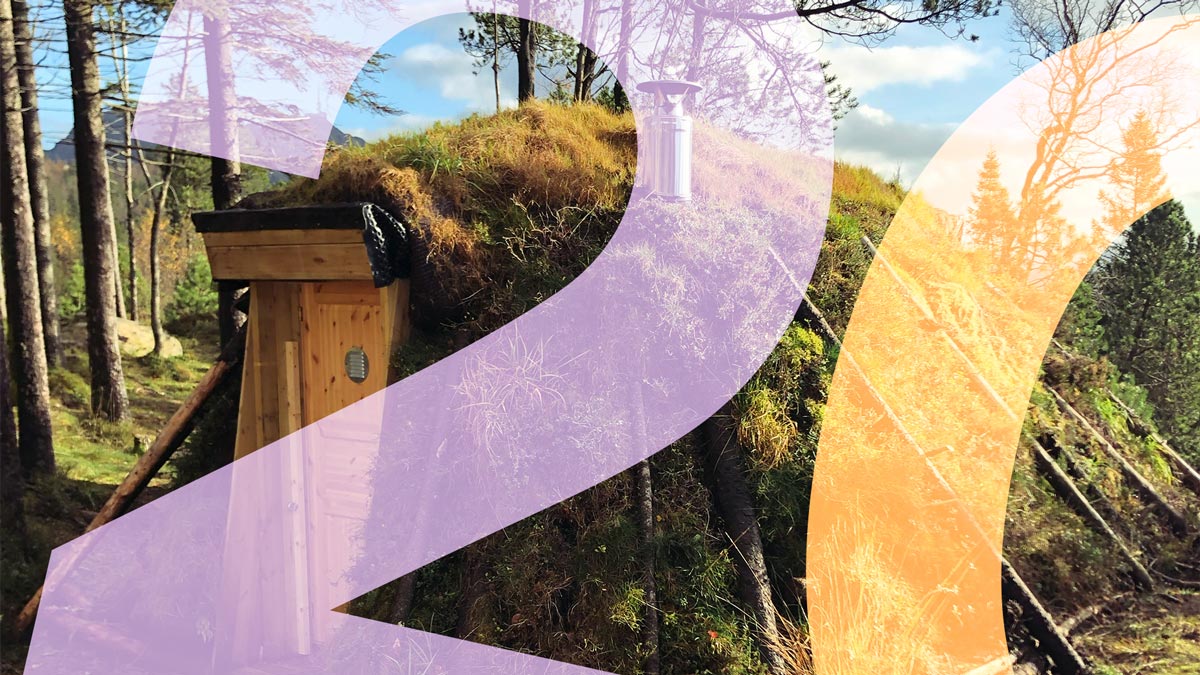 15.03. 14:00–18:00
Torrfjellet, Fløyen
16.03.
14:00–18:00

Sold out
17.03.
14:00–18:00

Sold out
18.03.
14:00–18:00

Sold out
19.03.
14:00–18:00

Sold out
Elina Waage Mikalsen – Rođu Govkkit/Glenner i Vier
You need to buy a ticket to attend a listening session at Jiennagoáhti.
Each session is 1 hour long, and only one ticket is available – but can accomodate up to 10 people. Please bring your friends, family or kin groups to listen with you.
The nominal ticket fee goes towards the cost of firewood to warm the space. Tea and coffee will be provided in the Jiennagoáhti as you listen.
Jiennagoáhti is situated on Torrfjellet, accessible by foot, a 10–15 minute walk from the Fløibanen Upper Station.
Accessing the site is mostly via paths, but involves walking over uneven ground for the last 200m, which is not suitable for wheelchairs or baby strollers. See full access instructions.
Photo: Lydgalleriet/ Julie Lillelien Porter
Welcome to the festival's most unique listening space, high up on the mountains surrounding the city of Bergen – Jiennagoáhti (Lyttegammen). An artwork dedicated to listening, Jiennagoáhti is an outdoor and indoor space for the dissemination and learning of indigenous Sami culture, architecture and language as well as ecology for residents of all ages – initiated by artist Elin Már Øyen Vister in dialogue with Sámi architect and artist Joar Nango. Lydgalleriet produces and runs the project alongside Elin Már.
Built from wood, and covered in turf, a goáhti is a traditional Sámi home construction. Central to this project is the idea of highlighting stories that explore the power relationships between Sápmi/Sábme/Sáepmie and Bergen. In Jiennagoáhti, various Sami, indigenous and queer stories are communicated through a specially built sound system that runs on electricity from solar energy.
For our festival collaboration, Jiennagoáhti will host a sound work by Borealis artist in residence Elina Waage Mikalsen. Rođu Govkkit/Glenner i Vier, is a work built on field recordings and voice, exploring our relations with the world we see, and the world we don't - exploring how nature opens her secrets and forgotten places, if we just listen.
The project is a contracted collaboration between Lydgalleriet, Byfjellsforvalter & Bymiljøetaten in City of Bergen Built by Sámihouses/Ole Muosát assisted by Dan Henrik Heiberg
Project supported by Bergen Sáamid Searvi, KORO (Kunst i offentlig rom), Sámediggi, City of Bergen, Vestland County Council & Arts Council Norway